expert eyebrow MICROSHADING in squamish
Semi-permanent makeup  is the hottest new trend for brows right now.
Women all over  the world are taking advantage of this new and safe way to make their brows look full and even without the hassle of having to apply makeup every morning.  
You too can have expert eyebrow tattooing in Squamish at Sweet Skin Beauty Studio.  We use specific techniques from both Phibrows and  SofTap Inc. These techniques are gentle, and extremely natural looking.    
WHAT IS MICROSHADING?
Microshading is a hand method of implanting pigment into the skin to create the look of fuller, more balanced brows. This form of tattooing is the newest trend in Semi-Permanent Makeup.  Not only is it super gentle, non-invasive and painless, it is extremely natural looking.
It's considered a soft "powder fill" and it looks like you just put on your brow powder or pencil.   Results are virtually undetectable!  
Because we are not cutting the skin (as in microblading) the healing is much faster and results are longer lasting! (1-3 years depending on your skin)
The results are achieved with a special disposable hand-held tool and the pigment is delicately inserted into the upper layers of the skin.
We use only highest quality pigments, without iron oxide or heavy metals.  This way the colour does not fade to any undesirable shade. 
See our portfolio of microblading and microshading work by clicking on any image below.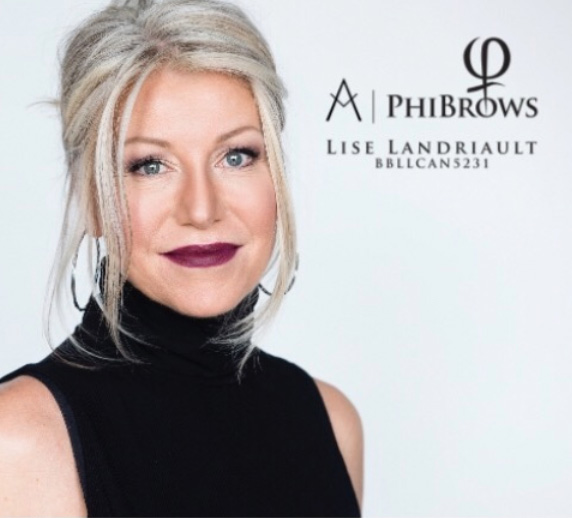 Lise Landriault
Lise is a certified Phibrows artist – trained with the world's most prestigious permanent makeup academy in the world – Phibrows Academy.
She specializes in natural looking microshading techniques as well as SofTap brows.  – otherwise known as  powder brows.
She is bloodborne pathogen certified and her studio is inspected and approved with Vancouver Coastal Health. She prides herself on offering a clean, sanitized environment with an emphasis on strict hygiene procedures and uses only disposable single-use tools.
Your safety is important, so choose your permanent makeup  artist wisely!
EYEBROW TATTOO IS

NOT

FOR CLIENTS WHO ARE:
Pregnant or nursing

Diabetic
Undergoing chemotherapy (consult with your doctor)
Viral infections (diseases)
Had Botox within a 2 week period of appointment
Had an organ translant
Have Epilepsy
Sick with a cold or flu-like virus
Used Accutane in the past 6 months
Are taking blood thinners
Anyone with existing, old permanent makeup on the eyebrows – It is always best to follow up with the original artist. *A pre-consultation is required
PRE-APPOINTMENT – CHECKLIST
When it comes to eyebrow tattooing, you will get much better results when you properly prep. It all starts with a good canvas! The eyebrow area must be healthy, strong, non-sensitive and non-irritated.  Here's how to get your skin ready for the procedure.
Do not use tanning beds two weeks prior or have sunburned face
Do not have any type of facial/peel 2 weeks prior to treatment
Discontinue Vitamin A/Retinol, glycolic acids or other skin thinning products 2 weeks prior to appointment
Do not work out the day of the procedure
Do not consume alcohol, caffeine or take blood thinners (aspirin, ibuprofen, niacin – 48 hours before your procedure (this will cause excess bleeding and may affect results)
Do not take Fish Oil, Vitamin E, or herbal supplements one week prior (natural blood thinners)
Eyebrow waxing/shaping should be done at least 3 days before the procedure
Eyebrow tinting should be done at least one week prior to procedure
Botox should be done 2 weeks before or after the procedure
You may experience hypersensitivity and more pain around or during your menstrual cycle
We cannot tattoo over any blemishes, moles or sores around the brow area
When you come for your consultation, come with your brows drawn in the way you usually would so I can see what you are used to
AFTERCARE – checklist
Careful aftercare is very important for producing a beautiful and lasting results!  It is important to follow these instructions for the 7-10 day period to ensure proper healing and color retention.  Results will vary for all individuals and we cannot guarantee your results. 
ABSORB – Immediately after procedure – first 30-60 minutes  
Right after procedure – use tissue paper to absorb excess lymph fluid– gently blot area with tissue paper.
DAY 1 – KEEP THE BROWS DRY FOR 24 HOURS 
DAY 2-7 – WASH AND PROTECT
Use a gentle, unscented cleanser (lather up in your hands) and wash your brows morning and night for 7-10 days or until flaking has stopped.  
Make sure you blot the brows completely dry after washing (use tissue).  Allow

 

NO WATER to collect on the brows.
Using a Qtip, apply a small amount of aftercare cream provided 2-3 times/day or whenever the area feels dry.   Do not over apply product as it may suffocate the skin and interfere with the healing process – the product should be barely noticeable – never apply on a wet skin.

Oily skin types should avoid the aftercare cream altogether and allow a dry heal process for the 7-10 days.

Do not use any other creams or products on the brows and avoid exfoliants.
IMPORTANT TIPS – WHAT TO DO:
Use a fresh, clean pillow case

Let scabbing fall away on its own – DO NOT pick or scratch!

Do not tweeze or tint eyebrows for 7 days

Avoid hot sweaty exercise for 7 days – sweat contains salt and can prematurely fade or alter the color of your brow tattoo – moderate exercise is fine

Avoid sun exposure or tanning beds for 4 weeks

Avoid long hot showers for 10 days – limit showers to 5 minutes so that you do not create too much steam.  Try to keep your face out of the water.  Pat the eyebrows dry immediately after getting out of shower

Avoid sleeping on your face for 10 days

Avoid swimming in hot tubs, lakes, swimming pools for 7 days

Avoid topical sunscreen, makeup and creams and exfoliants on brows for 7 days

Do not use Vaseline on your tattoo

Do not use any Retinols, AHA's or other exfoliants anywhere near the eyebrows, it will fade them prematurely

Avoid laser light therapy (IPL) around the eyebrows

Avoid facials or facial massage during the 4 week healing process

Avoid using Vaseline on the eyebrows

Avoid makeup, creams, exfoliants on the eyebrows for 10 day

Use SPF 50 or higher (after 10 day healing phase) to protect your brows from fading prematurely
WHAT TO EXPECT:
Mild swelling, itching, light scabbing, light bruising and dry tightness.   Aftercare ointments work well for scabbing, tightness and itchiness.
Too dark and slightly uneven appearance.   After 2-7 days the darkness will fade, and once any swelling dissipates unevenness usually disappears.
Color change or color loss.  As the procedure area heals, the color will lighten and sometimes seem to disappear in places. The color will return, this is a temporary healing phase as the layer of skin heals over the brows.  All color fading can be addressed during the touchup appointment which is why the touchup is recommended. The procedure area has to heal completely before we can address any concerns.  Healing will take 4 weeks. 
 Touch-ups.  We recommend the first touchup no sooner than 4-6 weeks after the first session.   A touch-up may be needed 6 months to 1 year after the first touch-up procedure depending on your skin, medications, and sun exposure.  Then every 6 months to 1 year to keep them looking fresh and beautiful.  Please see prices for touch-up sessions. Do not expect perfect results after the first session.  This is a process and some clients may need multiple sessions to achieve the desired results.  
LONG TERM CARE:
THERE ARE NO GUARANTEE OF RESULTS – as everyone's result will vary due to the skin type, lifestyle and the initial 10 day care of your tattoo.

Use at least SPF 50 to protect your brows, sun exposure will cause fading and alter the color of your tattoo.

Hours of Operation
Monday: Closed
Tuesday: 12 pm - 7 pm
Wednesday: 10 am - 5 pm
Thursday: 12 pm- 7 pm
Friday: 10 am -5  pm
Saturday: 10 am - 2 pm
Sunday: Closed