What is body sugaring?
Body Sugaring is an ancient art of hair removal dating back to the Egyptians.  It's a completely 100% natural, biodegradable paste made from lemon, sugar and water… that's it!
The water soluble paste is molded onto your skin against the direction of the hair growth, then quickly flicked off in the same direction of the hair growth using a special technique.  Your unwanted hair is extracted and dead skin cells are removed. This gentle exfoliation leaves the skin smooth for weeks. Removing the hair in it's natural direction eliminates breakage, ingrowns and discomfort to the skin. Using slight lukewarm sugar paste, this process is comfortable, sanitary, and skin is free of irritation and sticky residue. Hair can be extracted as short as 1/16 inch. The results are long lasting, leaving you hair free for weeks and with regular maintenance can lead to permanency.
A gentle effective way of removing unwanted body hair, suitable for all areas of the body for both men and women. Ideal for all skin types, hair textures, and skin sensitivities.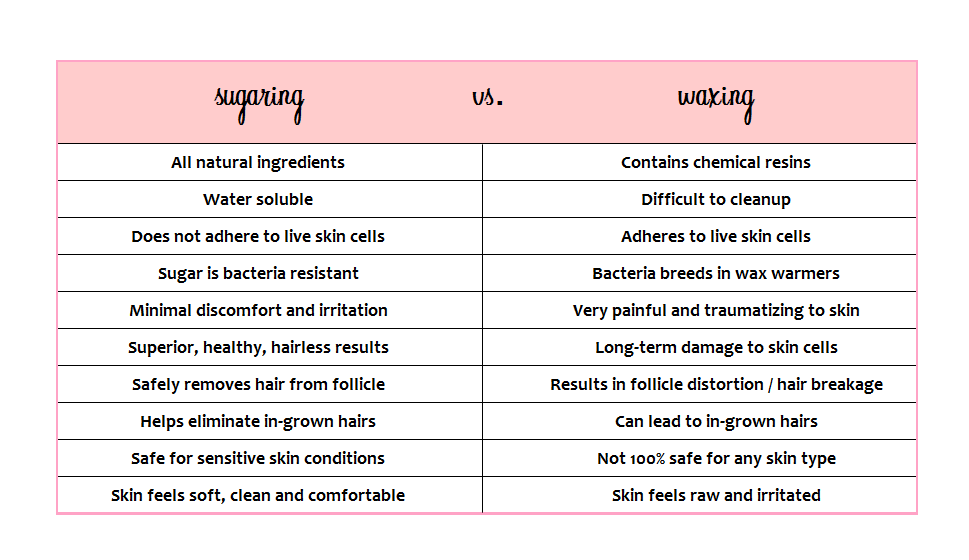 Hours of Operation
Monday: Closed
Tuesday: 12 pm - 7 pm
Wednesday: 10 am - 5 pm
Thursday: 12 pm- 7 pm
Friday: 10 am -5  pm
Saturday: 10 am - 2 pm
Sunday: Closed